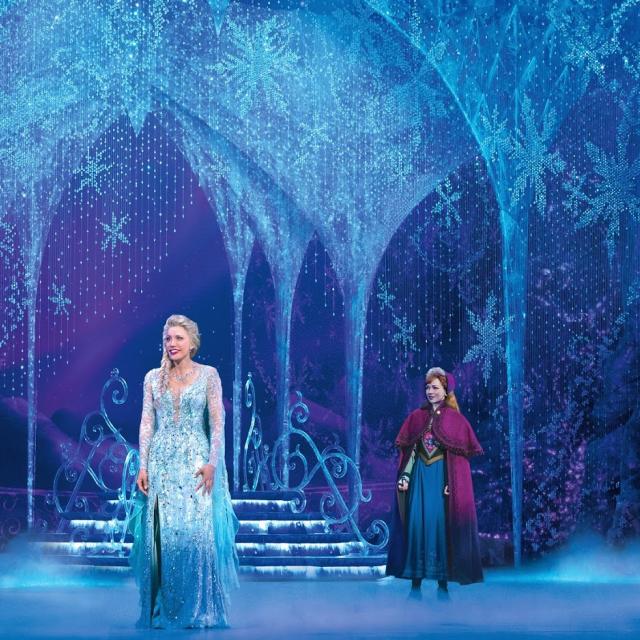 Frozen, Free Tours and Ron Burgundy Come to San Diego Theatres
Mar 5, 2020
UPDATE - March 12, 2020
In collaboration with our clients and partners, events at San Diego Theatres are being rescheduled, postponed, or canceled through Mid-April. This includes Disney's Frozen presented by Broadway San Diego, which is being postponed to a date that is yet to be determined. For up-to-date information, please visit sandiegotheatres.org/coronavirus.
---
March is here and that means a new month of exciting performances ahead.
Experience the magic of Disney's Frozen, see your favorite podcasters live (including Ron Burgundy and Ian Cron), tour the Civic and Balboa Theatres for free, and more!
Open House San Diego
Civic Theatre and Balboa Theatre – Sat, Mar 7
The Civic and Balboa Theatres – with their rich civic and architectural history - are being opened up for tours on one-day only: Saturday, March 7. Part of the San Diego Architectural Foundation's 5th annual OH! San Diego, staff members from San Diego Theatres will lead the public on free, 30-minute tours. Registration is required. Learn more.
Shin Lim - Limitless
Civic Theatre – Sun, Mar 8
Winner of America's Got Talent Season 13, Shin Lim is a self-proclaimed "sleight of hand artist." His mind-boggling, self-choreographed routines are so masterful, that the audience is left to wonder what if their eyes have seen is truly possible. Presented by Bill Blumenreich.
The Music of Cream - Performing Disraeli Gears and Clapton Classics
Balboa Theatre – Sun, Mar 8
The Music of Cream features family members Kofi Baker (son of Ginger Baker) on drums and Will Johns (Eric Clapton's nephew and son of Zeppelin/Stones engineer Andy) on guitar and vocals. This unique project features Cream's incomparable music, combined with storytelling, rare photos and integrated videos in a night to remember. This event is presented by San Diego Theatres.
Ron Burgundy Podcast LivE!
Balboa Theatre – Tues, Mar 17
Goldenvoice presents a special evening of The Ron Burgundy Podcast live, a podcast where 70s news anchor Ron Burgundy helps navigate us through the modern world.
Steven Wright
Balboa Theatre – Fri, Mar 20
Comedian Steven Wright brings his signature deadpan stand-up to San Diego for an evening of laughter presented by Goldenvoice.
Typology Live with ian morgan cron and special guest bob goff
Balboa Theatre – Sat, Mar 21
Bestselling author, renowned speaker, and Enneagram extraordinaire, Ian Cron, brings his Typology Podcast to the historic Balboa Theatre for a live taping. Special guest Bob Goff joins the taping presented by Transparent Productions.
The Commanders of Jazz Ensemble
Balboa Theatre – Sun, Mar 22
The U.S. Air Force Band of the Golden West presents a FREE concert in San Diego by The Commanders Jazz Ensemble. This family-friendly event features a full gamut of jazz music - traditional jazz, cool, bop, swing, Broadway favorites and patriotic music.
Disney's FROZEN
Civic Theatre – Mar 26 – Apr 12
The Civic Theatre is your stage for the magic of Broadway in San Diego. Broadway San Diego presents Disney's Frozen, an unforgettable theatrical experience filled with sensational special effects and powerhouse performances. The critics rave "Disney's struck gold! Sumptuous sets, gorgeous costumes and plenty of special effects to wow the audience!" (New York Post).

POR QUÉ Los hombres Aman a las Cabronas
Balboa Theatre – Sat, Mar 28
Basado en el libro de Sherry Argov y presentado por Illusion Touring. Esta lleno de "rebanadas de humor de la vida diaria que cubren todo lo que frustran a las mujeres sobre los hombres."
Something for everyone!
Explore the San Diego Theatres events calendar.
San Diego Theatres and Ticketmaster.com are your only official, trusted ticket sales sites for events at Balboa Theatre and Civic Theatre.