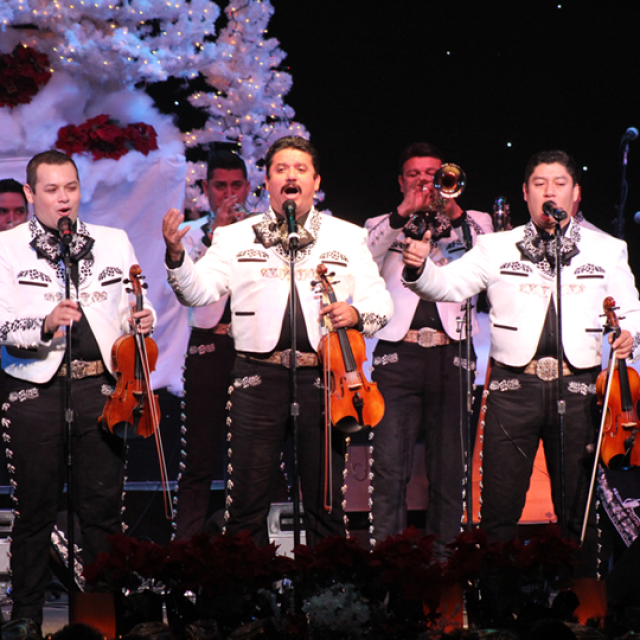 San Diego Theatres
Mariachi Sol De Mexico: A Merry-achi Christmas
Sun, Dec 17, 2023 @ 7:00P
Pricing
Tickets start at $43 (includes a $3.50 Facility Restoration Fee)
Run Time
Approximately 2 hours (including 20 minute intermission)
Children
All ages must have own ticket.
On Sale
Public on Sale begins Fri, August 4 @ 10:00A
The Celebration: How is Christmas celebrated in the southwest? With traditional carols played by a mariachi of course! And this December Mariachi Sol de Mexico®, with the blazing sounds of its 13 piece ensemble, brings to life a festive, joyous holiday celebration.
The Music: Enjoy a fusion of the traditional holiday spirit with the color, and the traditions, of Mexican and American Christmas songs and carols. The traditions are brought to life by Sol de Mexico's spectacular artistic execution. Experience this unique fiesta of favorite holiday tunes from both sides of the border.
The Musical Ensemble: This thrice Grammy-Award nominee, Sol de México® has performed and recorded with music greats Linda Ronstadt, Vicki Carr, Jose Feliciano, Willie Nelson, Juan Gabriel, Vicente Fernandez, Luis Miguel and The Beach Boys. The group worked on Hollywood soundtracks for Sea Biscuit, The Old Gringo, American Me, Don Juan de Marco, Glory Road, and Beverly Hills Chihuahua
Since its founding in 1981, SOL DE MÉXICO® DE JOSÉ HERNÁNDEZ has brought the mariachi genre to greater prominence. They have performed throughout Latin America, Spain, China, Hawaii, and North Korea. Thrice nominated for a Grammy they are a dynamic ensemble of 13 crack musician/vocalists who personify the spirit of Mexico and its people. Among their albums are, Corazon Buenas Noches; New York, New York; Are You Lonesome Tonight, Acapulco Girls, Mi Mariachi, and La Musica.