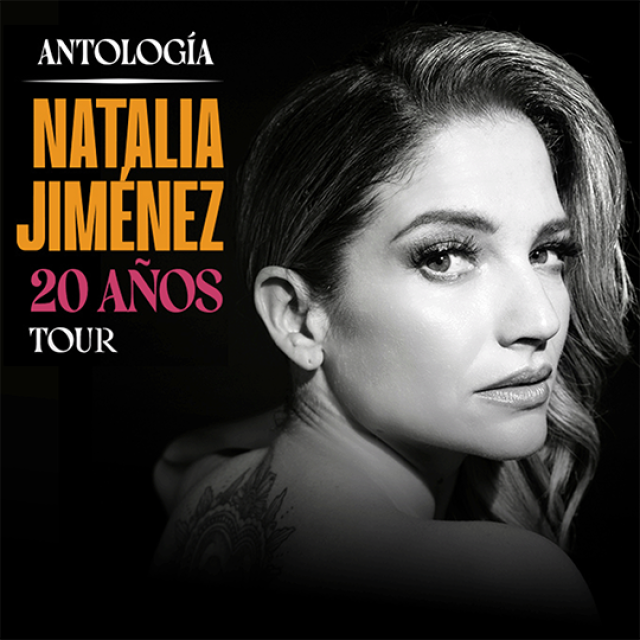 Goldenvoice
NATALIA JIMÉNEZ
Antología 20 Años Tour
Fri, Aug 4, 2023 @ 8:00P
Pricing
Tickets start at $53 (includes $3.50 Facility Restoration Fee)
Run Time
1 hour, 30 minutes
Children
All ages must have own ticket
On Sale
Tickets On Sale Wednesday, May 24 @ 10A
La cantautora Natalia Jiménez es una artista reconocida a nivel internacional por su potente voz, carisma y versatilidad musical. Posicionada como una de las figuras femeninas de más envergadura en la música Latina en todo el mundo. Ganadora del GRAMMY y el Latin GRAMMY cuyas influencias incluyen una mezcla de rock, pop, jazz y sobre todo la música regional mexicana.
Ahora mismo Natalia se enfoca en la celebración a sus 20 años de trayectoria musical, con la gira internacional más grande de su carrera hasta el momento, titulada Antología 20 Años Tour. Este ambicioso proyecto cuenta con más de 55 shows confirmados, por más de 10 países entre los que destacan Estados Unidos, México, Colombia, Venezuela, Puerto Rico, Panamá, Chile, así como las principales ciudades de España.
Está celebración de 20 años de carrera, contempla también un álbum con nuevas versiones de todos sus éxitos, incluyendo los de su etapa con "La Quinta Estación", también estarán los principales éxitos de su carrera como solista, regional, así como algunos temas inéditos. Todo el material será producido por el reconocido y multipremiado Cheché Alara. Sin lugar a duda, el complemento perfecto para celebrar 20 años de exitosa carrera.
---
Singer-songwriter Natalia Jiménez is an internationally recognized artist known for her powerful voice, charisma, and musical versatility. She is positioned as one of the most prominent female figures in Latin music worldwide. She is a Grammy and Latin Grammy winner, and her influences include a blend of rock, pop, jazz, and above all, regional Mexican music.
Currently, Natalia is focused on celebrating her 20-year musical career with the largest international tour of her career so far, titled "Antología 20 Años Tour." This ambitious project includes more than 55 confirmed shows in over 10 countries, including the United States, Mexico, Colombia, Venezuela, Puerto Rico, Panama, Chile, and the major cities of Spain.
This 20-year career celebration also includes an album with new versions of all her hits, including those from her time with "La Quinta Estación," as well as the major hits of her solo career and regional music, along with some unpublished tracks. The entire material will be produced by the renowned and multi-award-winning Cheché Alara. Undoubtedly, the perfect complement to celebrate 20 years of a successful career.