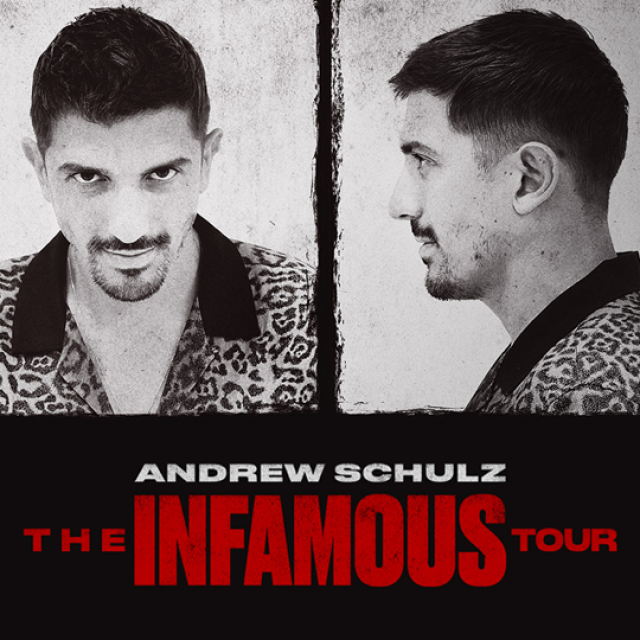 Live Nation
Andrew Schulz
The Infamous Tour
Thu, Sep 16, 2021 @ 7:30P & 10:00P
Masks
Masks are required for unvaccinated guests. The CDC and California Department of Public Health recommend that everyone wear a mask in indoor, public settings, regardless of vaccination status.
Pricing
Tickets start at $55 (includes a $3.50 Facility Restoration Fee)
Run Time
1 hour, 15 minutes
Children
Recommended for mature audiences only
On Sale
Late show on sale Friday, June 25, 2021 @ 10:00A
Taking revenge on the year that was 2020, Andrew Schulz created and stars in SCHULZ SAVES AMERICA now streaming on Netflix. This four-part special tackled last year's most divisive topics. And Schulz remains one of the most viewed stand-up comedians in the world.
A native New Yorker, Schulz is known for his hilariously unapologetic takes and wild off-the-cuff interactions with the crowd. His stand-up clips posted on YouTube have amassed over 252 million views, and his latest comedy special THE CROWD WORK SPECIAL has been viewed over 4 million times. His other specials 441 and VIEWS FROM THE CIS have been viewed over 18 million times. Schulz's debut comedy album 551 was #1 on Billboard, Apple Music, Spotify, iTunes, Google Play, and Amazon Music. 
Andrew was a guest on THE JOE ROGAN EXPERIENCE three times last year, with episodes lasting over three hours. His two podcasts – THE BRILLIANT IDIOTS and FLAGRANT 2 – receive over 2 million listens per week.
Recommended for Mature Audiences Only.