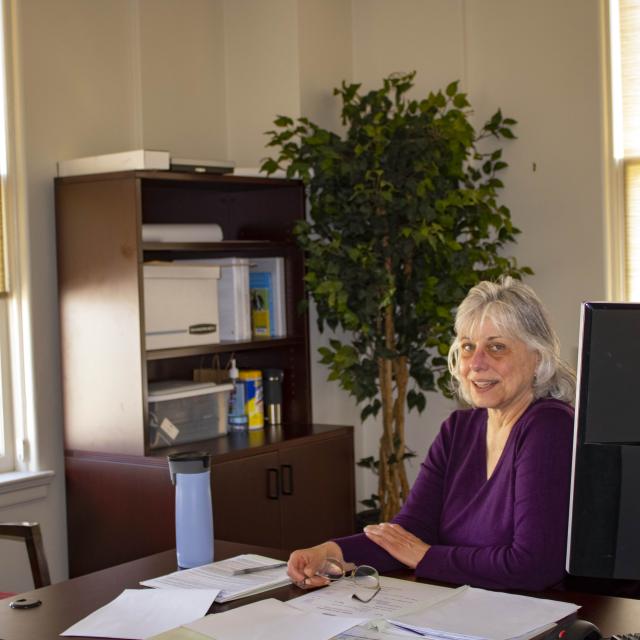 EMPLOYEE SPOTLIGHT: MEET CINDY BOWERS, SAN DIEGO THEATRES DIRECTOR OF PROGRAMMING
Jun 9, 2022
Through the help of over 100 employees, San Diego Theatres' can achieve its mission of delivering exceptional performing arts and educational experiences, fostering collaboration and partnerships, and creating an accessible place for all to enjoy the arts.
This month, we spotlight someone who has been an integral part of San Diego Theatres' success; Cindy Bowers, San Diego Theatres Director of Programming.
How does your role at San Diego Theatres contribute to what people see on stage?
The programming department works with promoters and agents nationwide on artists' routing and dates to potentially book them into our venues. We also work with agents to present our own events. In other words, we take the calls and book the shows.
Tell me about your background experience before working at San Diego Theatres?
I was 17 years old when I began playing the drums at bars and in every local wedding band possible. After a few years of "overserved" patrons falling into my drum kit, I auditioned for a dinner theatre in town. Once I was offered the gig, I quickly accepted, knowing my drum kit was no longer in danger, and I would be home before 3 am! This job started my lifelong dedication to theatre and entertainment. I later became the resident percussionist at the theatre, which paid my way through college and provided me with additional experience to play for other artists, including Roseanne Barr and Phyllis Diller. In 1980 I started my first road gig with a New Orleans jazz band, followed by a Steinway artist tour in the South. Years later, I went on my first Broadway tour across North America for 18 months as a pit musician for the show "Big River." I continued to tour with Broadway as a musician until a producer challenged me to "put my money where my mouth was" and manage one of the tours. This challenge led me to become a Broadway tours company manager for ten years. While working on "Seussical: The Musical" in 2003, I had mentioned to Broadway San Diego's General Manager that I was retiring from touring. Later that day he called me to ask if I was interested in a job in San Diego, and the rest is history. 
How long have you worked at San Diego Theatres?
Since November 7th, 2003.

What drove you to work in the theatre and live events industry?
My love for music and entertainment intertwined with my desire to work with talented and creative people. 
What do you enjoy most about working for San Diego Theatres?
I love working with promoters, presenters, and agents. It allows me to stay connected with the arts & entertainment industry. To this day, I periodically connect with my old "roadies" and actors as they come through the Civic or Balboa Theatre. 
Describe yourself in three words.
Creative, opinionated, fair & equitable. 
What is your favorite theatre or performing arts show?
"Once On This Island" 
If your life was made into a theatre or performing arts event, what genre would it be, and what would it be called?
The genre would be comedy/drama, and it would be called "A Comedy of Errors"
If you weren't in live events, which industry would you be working in?
Teaching
What is your favorite memory from working in the theatre and live events industry?
I have so many but my most memorable one was in 1984. I was a guest artist at the Governor's School of Performing Arts in Nashville when I had the opportunity to meet Wynonna & Naomi Judd. As we started talking, they mentioned they were there to film a special video for "Sesame Street" on the letter "R." I saw this as an opportunity to get the Governor's School of Performing Arts students to be in the video as audience members. They were so excited when I told them the news!