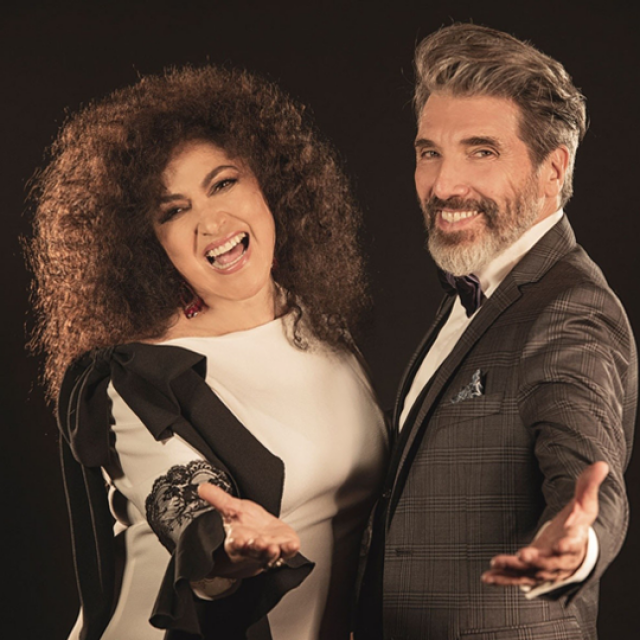 Illusion Entertainment
Amanda Miguel Y Diego Verdaguer: Postponed
Sat, Feb 19, 2022 @ 8:00P
Masks
Masks are required for all guests regardless of vaccination status.
Vaccination
Proof of vaccination or negative Covid-19 test result required
Pricing
Tickets start at $48.50 (includes a $3.50 Facility Restoration Fee)
Children
All ages must have own ticket.
On Sale
Public on Sale begins Fri, Nov 19, 2021 @ 10:00A
Querido publico, 
Nos entristece demasiado la perdida del Señor Diego Verdaguer, como se pueden imaginar hay muchas cosas cambiando rápidamente. El tour se pospondrá para la segunda mitad del 2022, Amanda Miguel llevara acabo el tour completo que había sido agenda bajo "Amanda Miguel y Diego Verdaguer". Muy pronto les avisaremos la fecha nueva, les pedimos que guarden sus boletos los cuales serán validos en su totalidad para el nuevo show. Si requieren un reembolso lo podrán solicitar por el medio en el que compraron sus boletos. 
Les agradecemos su comprensión en estos tiempos difíciles. 
Gracias, 
Illusion Touring Entertainment 
---
Por el Departamento de Salud de California, comprobante de vacunación (dos semanas después de su dosis final) o prueba negativa de COVID-19 serán requeridos para la audiencia de este evento. Las pruebas deben de ser realizadas: 
48 horas antes del evento si es una prueba PCR 
24 horas antes del evento si es una prueba rápida de antígenos 
Mascarillas serán requeridas adentro del teatro para todos los miembros de la audiencia sin importar estado de vacunación.   
Para su conveniencia Lux Concierge está proporcionando pruebas rápidas de COVID-19 en Balboa Theatre el día del evento por $40 cada prueba. Las pruebas se hacen una hora antes de que el evento comience. Por favor llegue una hora antes al evento para poderse realizar la prueba. 
Aquí puede encontrar más información sobre qué pruebas de COVID-19 y de vacunación son aceptadas en el evento. 
---
Ven a divertirte con Sebastian Rulli, Alternando funciones Mariana Seoane y Malillany Marin, Julian Gil, Julio Camejo, Alexis Ayala y Sherlyn en esta comedia de enredos donde no pararas de reír! Divorciémonos mi Amor