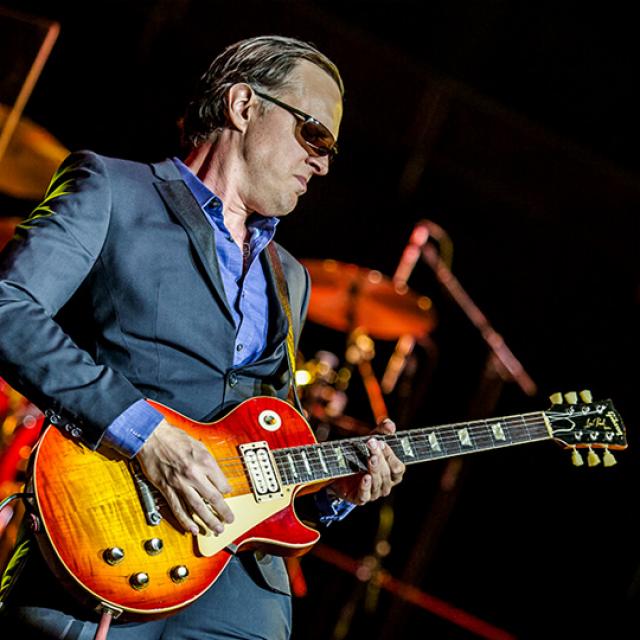 JR Adventures
Rescheduled: Joe Bonamassa
Fri, Jul 31, 2020 @ 8:00P
Pricing
Tickets start at $62.50 (includes a $3.50 Facility Restoration Fee)
Children
All ages must have own ticket.
On Sale
Public on Sale begins Fri, Feb 28, 2020 @ 10:00A
This show has been postponed and rescheduled for August 3, 2021.
If you are unable to attend the new date, refunds are available at point of purchase. Tickets for the new date are available here.
A message from Joe and his team:
Due to the coronavirus (COVID-19) pandemic and in the interest of safety and wellbeing for all of us, we have decided to reschedule our show until August 3rd, 2021. We are extremely disappointed to not see you this year, but look forward to seeing you next year when this is behind us and large gatherings are safe again.
Thank you for understanding and stay safe and healthy!
Joe Bonamassa & J&R Adventures
________
Two time Grammy-nominated blues-rock guitarist Joe Bonamassa announces his new US Summer tour dates for 2020 in support of his 22nd # 1 Billboard Blues album, Live At The Sydney Opera House. (J&R Adventures). 
Hailed worldwide as one of the greatest guitar players of his generation, Joe Bonamassa has almost single-handedly redefined the blues-rock genre and brought it into the mainstream.
Backed by a stellar band of legendary musicians including Rock & Roll Hall of Famer and member of Stevie Ray Vaughan and Double Trouble, Reese Wynans (piano/organ), Late Night with David Letterman's Anton Fig (Drums), Nashville recording legend Michael Rhodes (bass), Paulie Cerra (Saxophone), Lee Thornburg (Trumpet) and featuring soulful background singers to bring a whole new life to the show which will feature brand new songs alongside career-spanning favorites.  Watch the "Love Ain't A Love Song" music video from Bonamassa's latest album Live At The Sydney Opera House here (see video below). By exceeding his own high artistic goals, Bonamassa has shattered all expectations and has reached new audiences – no mean feat when you continue his astonishing track record of releases and consistent touring. Bonamassa's career in the music industry has built steadily over the years and is still gaining more momentum. You won't want to miss the Guitar Event of the Year with Joe Bonamassa.
Download a Free Song from Joe Bonamassa at www.jbonamassa.com/freemp3