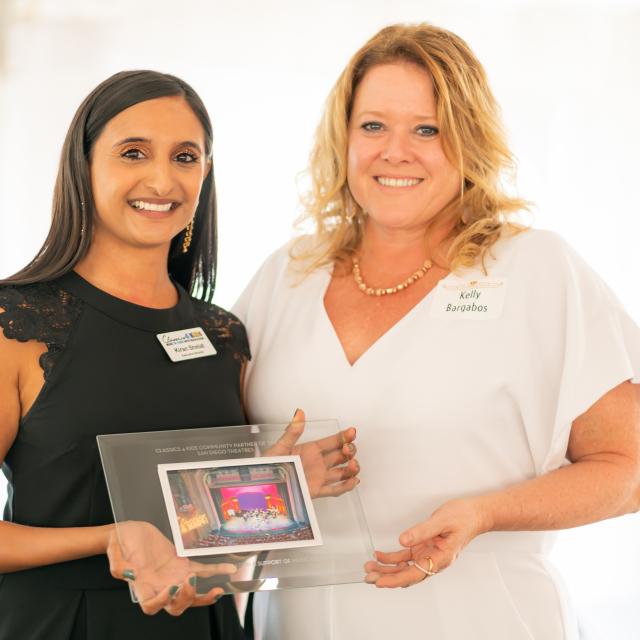 Classics 4 Kids Names San Diego Theatres Community Partner of the Year
Oct 25, 2019
San Diego Theatres is proud to have been named the 2019 "Community Partner of the Year" by Classics 4 Kids. The award was presented to Theatre staff at the non-profit's fundraising gala on Sunday, October 13, 2019.
Now in its 26th season, Classics 4 Kids is 501c3 non-profit that helps San Diego youth discover the wonders of music through high-quality music education. For the past 11 years, the historic Balboa Theatre - operated and managed by San Diego Theatres - has served as the host venue for the concert series. This year's performances begin on November 7 and November 8 with "Tubby the Tuba," March 5 and 6 with "Ferdinand the Bull" and "The Silk Road" on May 15 and 15.
"Classics 4 Kids is grateful for the partnership of the San Diego Theatre's incredible staff in giving our kids a concert experience they will never forget," said Dana Zimbric, Artistic Director & Conductor. "The support and partnership of San Diego Theatres over the years has provided immeasurable benefit to the students and teachers who attend our programs. We were delighted to be able to honor San Diego Theatres with this year's Community Partner Award."
Classics 4 Kids was founded in 1994 with one single goal in mind: to fill a gap in music education. Today, the educational programs through music have served almost 30,000 students, teachers & families across the region.
"We are honored to be able to host such an important musical event that directly benefits the next generation of San Diegans," said Jim Waring, Board Chair of San Diego Theatres. "It is our privilege to be able to impact the youth of our community through the Classics 4 Kids program and to serve as the theatre where children form some of their first theatre memories."
Each season, Classics 4 Kids performs 12 STEAM professional orchestra concerts as field trip events at the historic Balboa Theatre. The students, as many as 1,300, are bused to the downtown venue where they enjoy a one-hour concert. Since many of the children can't pay for transportation or ticket fees, donations are subsidized through fundraising.
"Kids are amazing listeners and are experts at feelings," said Zimbric. "They also love a good story and to move around. We keep these things in mind when we are planning our concerts. We have great audiences and we love performing for them."
This event fulfills the mission of the San Diego Theatres, to deliver exceptional performing arts and educational experiences. San Diego Theatres is a 501(c)(3) non-profit arts organization that successfully operates the San Diego Civic Theatre and historic Balboa Theatre.
When asked what impact these shows have had, here are some of the letters that Classics 4 Kids shared from past students:
"I realized that music is not just for entertainment, it is to make you really feel the music inside of you."
"Music with words is good too, but symphony music inspired me so that I can listen to both and enjoy them both."

"I think it is one of the most magical things I have ever seen or heard, honest! I couldn't stop tapping my foot to the rhythm. I thought I was going to fly out of my chair and go crazy because the playing was so magnificent in every single way. I hope that we can turn that once in a lifetime chance to maybe twice!"