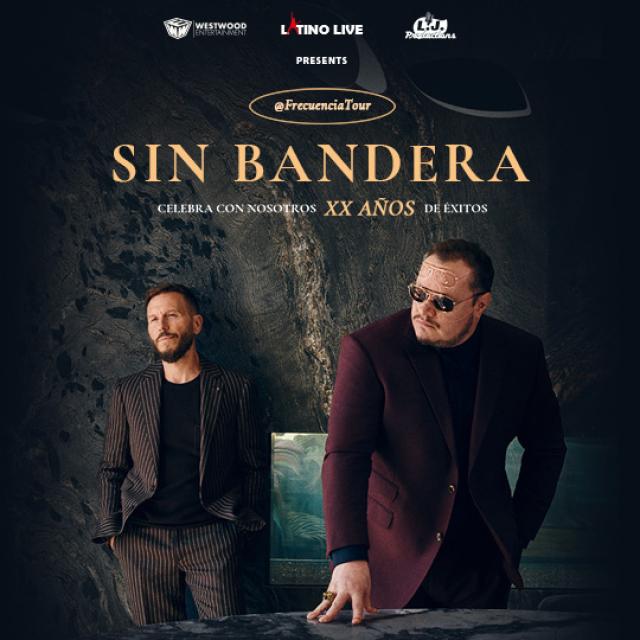 Latino Live & LJ Productions
Sin Bandera
Frecuencia US Tour 2023
Thu, Oct 19, 2023 @ 8:00P
Pricing
Tickets start at $42.50 (includes a $3.50 Facility Restoration Fee)
Children
All ages must have own ticket.
On Sale
Public on Sale begins Fri, May 19 @ 10:00A
Sin Bandera ha anunciado su próxima gira "FRECUENTA TOUR" por distintas ciudades de los Estados Unidos, la cual promete ser una experiencia inolvidable para los fanáticos de la banda, donde encontrarán en cada presentación, un espectáculo lleno de energía, emotividad y calidad musical.
La esperada gira de Sin Bandera promete ser una experiencia emocionante y llena de sentimiento para todos los asistentes. Con su estilo pop romántico, la banda llevará a su público a un viaje lleno de éxitos y canciones inolvidables que los harán cantar y bailar sin parar. En cada uno de sus conciertos se ofrecerá un show de alta calidad, con una cuidadosa selección de las canciones, un diseño de iluminación y escenografía impresionante, y una puesta en escena emotiva e impactante.
Además, la producción incluye una amplia variedad de recursos técnicos, como sistemas de sonido de última generación, pantallas LED, efectos especiales y pirotecnia, entre otros, para crear una experiencia inolvidable para sus fans. Todo esto, combinado con el talento y la energía de los integrantes de la banda, ha sido clave para mantener a Sin Bandera en la cima de la industria musical.
---
Sin Bandera has announced their upcoming "FRECUENTA US TOUR 2023" across different cities in the United States, which promises to be an unforgettable experience for the band's fans, featuring a show full of energy, emotion, and musical quality at each performance.
The long-awaited Sin Bandera tour promises to be an exciting and emotionally charged experience for all attendees. With their romantic pop style, the band will take their audience on a journey full of hits and unforgettable songs that will make them sing and dance non-stop. At each of their concerts, a high-quality show will be offered, with a careful selection of songs, impressive lighting and scenography design, and emotive and impactful staging.
In addition, the production includes a wide variety of technical resources, such as state-of-the-art sound systems, LED screens, special effects, and pyrotechnics, among others, to create an unforgettable experience for their fans. All of this, combined with the talent and energy of the band's members, has been key to keeping Sin Bandera at the top of the music industry.