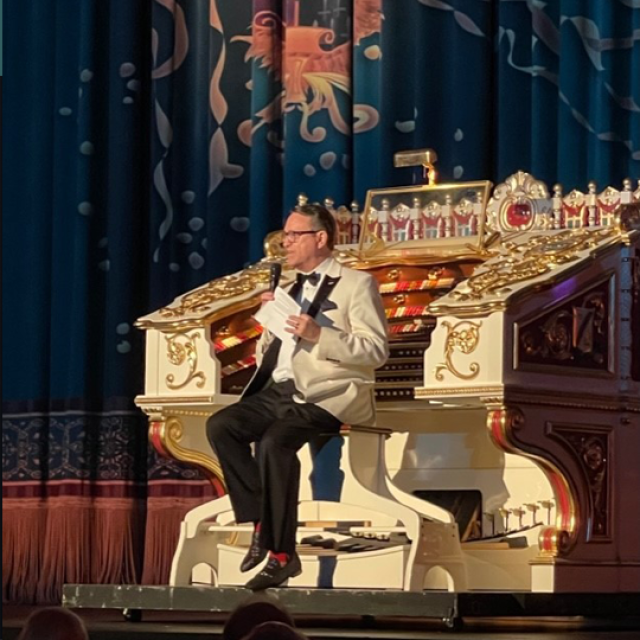 San Diego Theatres
Buster Keaton Silent Film "One Week"
featuring Ken Double on the Wonder Morton Organ
Tue, Sep 19, 2023 @ 12:00P
Pricing
Tickets are free with a $4 order fee and must be reserved. The $4 order fee is applied per order, not per ticket
Run Time
1 hour (film runs 22 minutes)
Children
All ages must have own ticket.
On Sale
Public on Sale begins Tue, August 29 @ 3:00P
Join us for the kickoff of our free lunchtime Organ Concert Series!
See the short-format silent film classic "One Week" starring Buster Keaton, accompanied by the incredible Ken Double on the Wonder Morton Organ. Enjoy an organ concert experience and classic silent film screening followed by highlights of the amazing Wonder Morton Organ.
Tickets are free with a $4 order fee and must be reserved. The $4 order fee is applied per order, not per ticket, and covers all tickets reserved in your order.
Your choice of two boxed lunch options can be purchased in advance online and added to your ticket for an additional $10.50. Lunch orders must be placed by 6:00P on Wednesday, September 13.
Smoked Turkey and Swiss -
smoked deli turkey + swiss cheese + green leaf lettuce
Caprese (Vegetarian option) -
steak tomato + fresh basil + sliced fresh mozzarella + pesto aioli + herb focaccia bun
Boxed lunches come with chips, cookie, and drink.
Please note: Outside food and beverages are not permitted in the theatre.
About Ken Double:
A former radio and television sportscaster who started taking organ lessons as an 8-year-old in Chicago, KEN DOUBLE enjoyed a 33-year career as a sportscaster, and now a second career focused on his love of the music of the theatre pipe organ. 
As a sportscaster, Ken broadcast NBA and major college basketball, NHL, IHL and AHL hockey, the worldwide radio broadcast of the Indy 500, and more. 
But since retiring from sports in 2008, Ken has performed concerts on the great theatre pipe organs around the world.  He also helped establish the Long Center Theatre Organ Society in Lafayette, Indiana; spent ten years as the President of the American Theatre Organ Society; and worked on fundraising for the Historic Organ Restoration Committee, the organization restoring the largest musical instrument in the world, the Midmer-Losh organ at Boardwalk Hall in Atlantic City, NJ.  All this in addition to his consulting and performing work at the Atlanta Fox on the beloved "Might Mo" Moller theatre pipe organ.
Ken Double performed his first concert in 1978; has more than 20 recordings to his credit; has done eight tours of Australia and New Zealand; just completed his 40th annual concert at the Long Center in Lafayette, IN; will play the 25th anniversary concert at the Barton at the Warren Center in Indianapolis; and has been the Master of Ceremonies for more than 25 ATOS annual and regional conventions.
Ken has had the privilege of performing for the Theatre Organ Society of San Diego several times at the great Wurlitzer at Trinity Church including an appearance just last April, and is delighted to perform his first public concert on the great Robert-Morton organ at the beautiful Balboa Theatre.
Broadcaster, concert organist, entertainer, promoter, fundraiser – Ken has worn many hats during his professional careers, and has been fortunate to, as he likes to say, "Get paid to have fun."  As the song goes, nice work if you can get it!