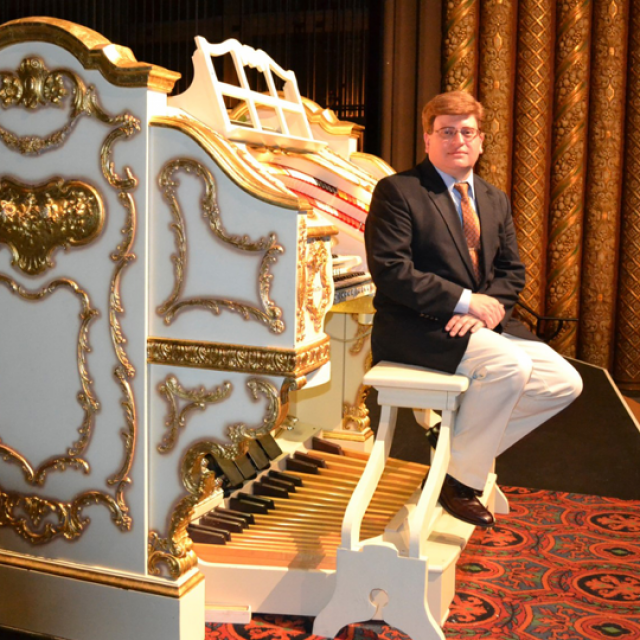 American Theatre Organ Society
Juan Cardona & Friends accompany Mel Brooks Film "Silent Movie"
Wed, Jul 6, 2022 @ 7:00P
Pricing
Tickets: $25 (includes $2.00 facility fee). Discounts available for Students, Seniors 60+, Groups 20+, Military (Veteran & Active Duty)
Children
Must be 6+ years to attend. All ages must have own ticket.
On Sale
Public on Sale begins Fri, April 1, 2022 @ 10:00A
Co-hosted by the Theatre Organ Society of San Diego
The event will feature the artistry of Juan Cardona performing inventive renditions on the Wonder Morton Theatre Organ followed by the west coast premier of the Mel Brooks comedy "Silent Movie" complemented by live theatre organ and exact percussive effects promises to be a hysterical experience for all ages. Produced in1976, this hit show features an array of superstar cameos which create a non-stop laugh fest! Juan and his team will catch every nuance of the movement in real time creating a multi-orchestral, precise accompaniment to the film action.
Connecticut native Juan Cardona began studying organ and piano at seven years old, which kicked off his education and career as a concert artist. Juan graduated under the guidance of Angela Salcedo with a degree in Fine Arts majoring in classical organ at the University of Connecticut while fine tuning his theatre organ skills with Jelani Eddington. Juan has concertized all throughout the east coast and south as well as holding the role of staff organist at the historic Thomaston Opera House and Bardavon Opera House in New York.
Juan launched his silent film career at the Thomaston Opera house with his first full-length feature film being Academy Award-winning "Wings", since then he has accompanied more than 30 silents, short comedies, and full-length features. He has scored "Phantom of the Opera," "Robin Hood," "The Beloved Rogue," "Tell it to the Marines," "Speedy," "The General" and silent short comedies: "The Great Race," "Big Business" and "One Week". For five years now Juan has been featured artist for the Eastern Massachusetts chapter of the American Theatre Organ Society in their "Silents in the House" film series. Juan's excellent artistry has earned him standing ovations and features as well as collaborations with notable artists such as Niel Sedaka and Tito Puento.