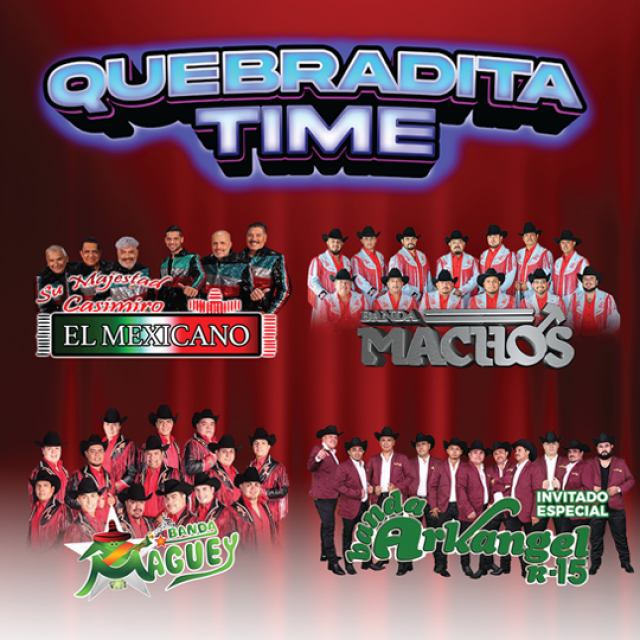 Nederlander
Quebradita Time!: CANCELED
Fri, Nov 12, 2021 @ 8:00P
Masks
Masks are required for unvaccinated guests. The CDC and California Department of Public Health recommend that everyone wear a mask in indoor, public settings, regardless of vaccination status.
Vaccination
Proof of vaccination or negative Covid-19 test result within 72 hours of event required
Pricing
Tickets start at $55 (includes a $3.50 Facility Restoration Fee)
Children
Must be 6+ years to attend. All ages must have own ticket.
On Sale
Public on Sale begins Mon, Sep 27, 2021 @ 12:00P
Quebradita Time!, agendado para el día 12 de Noviembre en San Diego Civic, ha sido cancelado. Los reembolsos estarán disponibles en el punto de compra. 
Quebradita Time!, scheduled for November 12, 2021 at the San Diego Civic, has been canceled. Refunds are available at point of purchase.
---
Proof of vaccination or negative Covid-19 test result within 72 hours of the event required for entry. Click here for details on acceptable proof of vaccination and negative Covid-19 test results.
---
Quebradita Time! featuring Mi Banda El Mexicano, Banda Machos, Banda Maguey, and Banda Arkangel R-15 will play San Diego Civic Theatre on Friday, November 12.  Tickets go on sale today at noon via Ticketmaster.com.
Known for their iconic music, Mi Banda El Mexicano, are quickly becoming viral music sensations.  The band not only performs regional Mexican music but rock and jazz as well. With over 47 years of history, they have received over 25 gold albums and many awards & nominations.
Banda Machos hails from Jalisco, Mexico, and has a career spanning over 24 years with 24 albums made, plus multiple awards and nominations. Banda Machos is an iconic band that has performed internationally and across the US, including stops at the Los Angeles Memorial Coliseum and Madison Square Garden in New York. 
Banda Maguey "La estrella de los bailes" is a musical group from Jalisco, Mexico. They originated in Villa Corona, also home to Banda Machos, who along with Banda Maguey have been called the two most successful exponents of the "technobanda" sound. During the 1990's, Banda Maguey dominated the radio waves with the debut of their album Tumbando Caña, which contained a number of hits including "El Alacran" a cover originally sung by La Sonora Matancera. In 1995, Banda Maguey released La Estrella De Los Bailes, which featured hit singles "Como La Luna," "Si Tú No Estás," "Que Sacrificio," and "Eva Maria" that climbed local charts. 
The Kings of quebradita, better known as Banda Arkangel R-15 from Las Varas Nayarit, Mexico, have garnered multiple gold and platinum albums and ranked on Billboard's "Hot Latin Track" chart. 
This event is subject to existing State of California, County, and City Health Mandates regarding venue capacity and safety protocols for implementing safety in response to the COVID-19 pandemic.