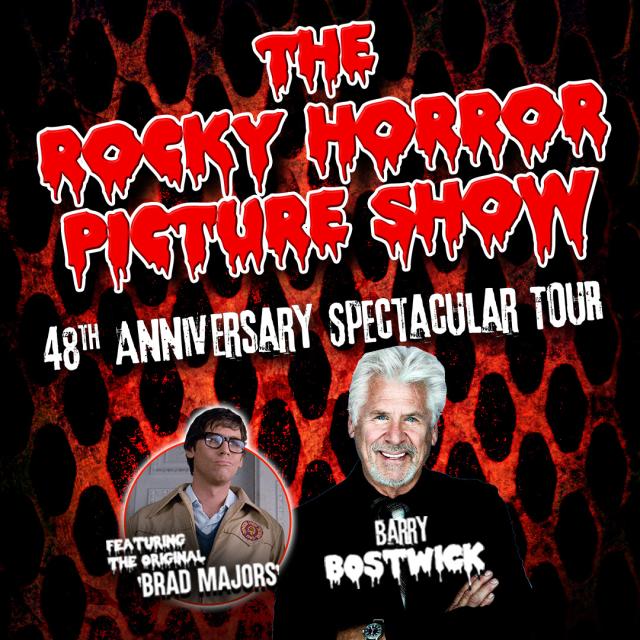 PRESS RELEASE: LEGENDARY "ROCKY HORROR PICTURE SHOW" 48th ANNIVERSARY TOUR TO PLAY BALBOA THEATRE ON OCTOBER 7
May 15, 2023
LEGENDARY "ROCKY HORROR PICTURE SHOW" 48th ANNIVERSARY TOUR
TO PLAY BALBOA THEATRE ON OCTOBER 7
Barry Bostwick, Who Plays Brad Majors in the Film, Will Host the Event & Greet Fans In-person  
SAN DIEGO (May 15, 2023) — The Rocky Horror Picture Show, the cult classic film about an unsuspecting young couple who stumble upon a castle inhabited by a mad scientist & his bizarre entourage, will play at the historic Balboa Theatre on Saturday, October 7. Tickets will be available starting May 19 at 10 AM on at https://bit.ly/RockyHorrorSanDiego.
It won't be a typical moviegoing experience – a live "shadow cast" of performers will take the stage with the film playing behind them. The audience is also an active part of the show with chants, props, dances, and more! Actor Barry Bostwick will serve as the evening's master of ceremonies; his portrayal of leading man Brad Majors in the film has made him beloved by generations of fans for nearly 50 years. Limited VIP tickets are available and include a meet and greet with Bostwick. The evening will also include a costume contest and memorabilia display with artifacts and costumes from the movie.
Bostwick explains why The Rocky Horror Picture Show has such an enduring legacy: "It's fun, noisy, and rude, and only exists today because of the dedicated fanbase and incredible 'shadow casts' from around the world. Three generations of partygoers have passed it down from one to another."
The Rocky Horror Picture Show 48th Anniversary Spectacular with Barry Bostwick is proudly presented by San Diego Theatres, the nonprofit that operates both the Balboa Theatre and San Diego Civic Theatre. To learn more, visit www.sandiegotheatres.org.
About The Rocky Horror Picture Show 
The Rocky Horror Picture Show is the iconic little movie that conquered Hollywood. The hit movie stars Tim Curry as the devious and fabulous Frank-N-Furter, Meatloaf, Barry Bostwick and Susan Sarandon as everybody's favorite nerdy couple – Brad and Janet – and the film's creator Richard O'Brien as Riff Raff. The film has become one of the longest weekly showing movies in the world. The Rocky Horror Picture Show's National Tour is produced by The Stander Group. 
About The Stander Group 
The Stander Group, run by Scott and Jackie Stander is a global friendly boutique diversified production and talent agency with over 30 years of experience producing celebrity events, concerts, plays, dance & variety shows, as well as a talent development and representation division with clients currently working around the world. 
About San Diego Theatres: 
San Diego Theatres, Inc. is a 501(C) (3) non-profit arts organization that operates two theatres in downtown San Diego. The San Diego Civic Theatre has been the region's largest and greatest attended performing arts venue for nearly 60 years, and the 100-year-old Balboa Theatre hosts concerts, comedians, and more in the heart of the Gaslamp district. The theatres serve over 500,000 patrons each year through arts and entertainment presentations, many of which are produced by resident nonprofit arts partners, including: San Diego Opera, San Diego Symphony, The Conrad, Golden State Ballet, Classics 4 Kids, and more. San Diego Theatres' mission is to deliver exceptional performing arts and educational experiences, foster collaboration and partnerships, and create an accessible place for all people to enjoy the arts.