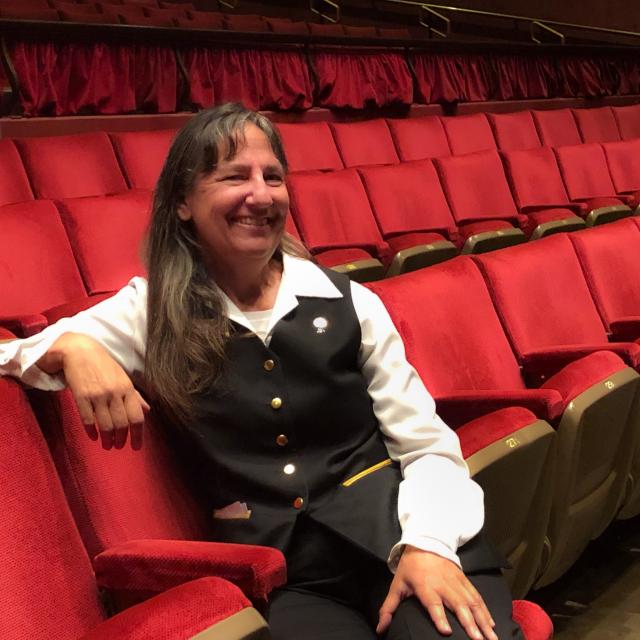 STAFF SPOTLIGHT: Meet Nancy Hupp, San Diego Theatres Usher of the Quarter
Mar 11, 2020
San Diego Theatres employs over 200 San Diegans to assist in the management, marketing, operations and maintenance of the San Diego Civic Theatre in the heart of downtown and the historic Balboa Theatre in the Gaslamp Quarter.
This month, we're shining the spotlight on Nancy Hupp, who was named Usher of the Quarter for Winter 2019/2020. By providing exceptional customer service, Nancy exemplifies the mission and values of San Diego Theatres.
Where is your hometown?
I grew up in Denver, CO.
How long have you been a part of the San Diego Theatres team?
I was a volunteer usher for many years around San Diego, but the best shows are at the San Diego Theatres. I joined the team November 2007.
What has been your favorite performance so far at the Civic Theatre or Balboa Theatre?
Jack Hanna (the animal guy) made a point of talking to the staff at the Balboa in April 2008. He gave each of us a personally signed photo. He let his kangaroo hop through the crowd in the orchestra. He presented a cheetah, penguin, python and entertained us with his amazing stories.
Any other special memories from your time at the theatres?
Civic Theatre (July 2011) hosted the red carpet premiere of "Cowboys and Aliens" as part of Comic-Con. A TV crew was set up in the plaza. We saw Harrison Ford, Daniel Craig (and others). The patrons got in free and the atmosphere was electric.
I started work when the Balboa Theatre was newly reopened. Because of that, I have enjoyed sharing its history. Nancy Hupp, Usher, San Diego Theatres
What's one thing about the theatres you wish people knew?
I started work when the Balboa Theatre was newly reopened. Because of that, I have enjoyed sharing its history.
What do you like to do when you're not ushering?
I like the outdoors: hiking, camping, biking, volleyball.
If you could have lunch with any performer or character from a play or musical, who would you choose?
An obvious choice is Aladdin's genie. However, I'll choose Shin Lim. He is the best sleight of hand magician I have ever seen.
Do you have a favorite quote or motto?
My mother would say, "You can stay home and clean the kitchen floor some other time..."
What's your favorite place in San Diego?
Balboa Park is amazing. There's so much more than museums and a zoo. I enjoy the free summer concerts, gardens, ping pong, pickleball, petanque, and walking trails.
Do you have any interesting or little-known facts about yourself?
I used to work for the Navy as a computer scientist. Twice I rode an aircraft carrier for a week and catapulted off.
What's your favorite part about being an Usher?
The variety of shows is amazing, including the different audience members who attend them. I've worked for opera, YouTube stars, kids' shows, podcasts, dance shows, a drumline, concerts, high school plays, corporate work meetings and church services.
Our career opportunities provide an opportunity to be part of the vibrant San Diego performing arts scene. Come work with us!